Andhra Pradesh LIVE: After call with Modi, Naidu in huddle with partymen; TDP ministers enroute PM's residence
8th March 2018 · 0 Comments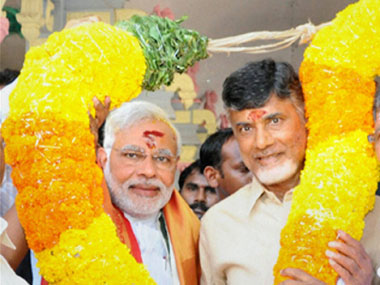 In the roughly 10 minute long phone call, Naidu explained Modi his reasons to exit the central government, as he reasserted that there is no turning back at least from the Union ministers resignation, CNN-News 18 reported. The TV chancel reported that the phone call was apparently a "no go" and the TDP ministers will submit their resignations when they meet the prime minister at 6 pm.
As all eyes remained on TDP-BJP ties, politicos reading between the lines of all the political posturing say that nothing is unexpected of Naidu —known for striking the best political bargains — until a final deal is done. BJP sources also told PTI that they believe all is not lost with TDP.
Two BJP ministers in the Chandrababu Naidu Cabinet in Andhra Pradesh today resigned after the Telugu Desam Party (TDP) decided to pull out of the Narendra Modi government. Health minister Kamineni Srinivas and Endowments minister P Manikyala Rao met the chief minister at the state Assembly and submitted their resignations.
Responding to the ongoing political tussle between the BJP and TDP, senior Congress leader Ghulam Nabi Azad said that the saffron party made false promises to the Telugu Desam Party to make them an ally in 2014, reported CNN-News18.
Chandrababu Naidu said that he tried to speak to Narendra Modi on phone as a courtesy to inform him about the decision to pull out of the government. "It is my responsibility as a coalition partner to inform the prime minister about our party decision. My OSD spoke to his OSD but the prime minister did not come on line," he said.
Amid the ongoing tussle between BJP and TDP over granting special category status to Andhra Pradesh, JD(U) demanded the same for Bihar.
The Telugu Desam Party (TDP) on Wednesday night announced its decision to pull out of the Narendra Modi government in protest against refusal of the Centre to grant Special Category Status to Andhra Pradesh, saying the Centre has done injustice to the state.
TDP chief and Andhra Pradesh chief minister N Chandrababu Naidu announced to the media that the two TDP ministers — P Ashok Gajapathi Raju (Civil Aviation) and YS Chowdary (Minister of State for Science and Technology) — will tender their resignations on Thursday.